KARMAPA at KTC-NJ July 20th, 2011
His Holiness the Seventeenth Gyalwang Karmapa & 1000-Armed Chenrezig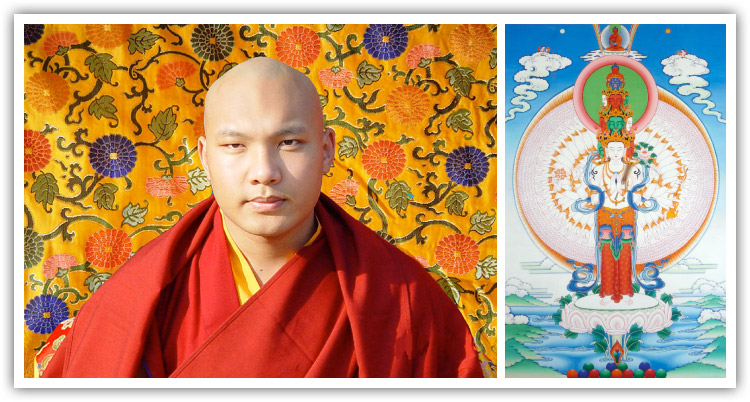 His Holiness the 17th Gyalwang Karmapa, Ogyen Trinley Dorje, is a world-renowned Tibetan Buddhist master, a living buddha who embodies wisdom and compassion.
The Karmapa has appeared for many lifetimes in Tibet and India, acting for the benefit of all sentient beings. His reincarnations are said to be "self-recognized": near the end of life, each Karmapa has composed a letter of prediction containing details about his future birth, allowing him to be found as a child in the next life.
The present Karmapa was recognized by a search party in Tibet at a young age, and was enthroned at Tsurphu Monastery. In 2000, he escaped from Tibet to India with the aspiration to benefit sentient beings and uphold and spread the Buddhadharma. In India, he received full lineage teachings, studying Buddhist philosophy and treatises from great masters of all schools of Tibetan Buddhism, while also learning modern science and languages.
Known for his compassion, charisma, candor and radiant presence, His Holiness is adept at interpreting ancient teachings for today's world. His profound realization causes him to be revered by millions of Buddhist worldwide.
1000-Armed Chenrezig
Immeasurable eons ago, when Avalokiteśvara (Tib. "Chenrezig") took birth as Lokeśvara, he promised before Buddha that he would attain Buddhahood.
It has been said in the sutras and tantras that Avalokiteśvara has great compassion, and is the embodiment of the compassion of all Buddhas. Like the orb of the sun, Avalokiteśvara shines on all sentient beings, blessing against all suffering and difficulties.
Practitioners who rely on Avalokiteśvara as a meditational deity will be able to merge their mindstream with Great Compassion, and amass the accumulations of merit and wisdom in the Mahayana Vehicle. Avalokiteśvara is also supreme in dispelling obstacles of illness.
第十七世大寶法王噶瑪巴 簡介
佛行事業的化身,瑞勝者之尊—噶瑪巴,在過去世即為「世間殊勝導師利他遊戲佛」;於此賢劫第四尊佛釋迦如來的時代,噶瑪巴是廣大悲心之體—大聖觀世音菩薩之化身;在未來世,則為賢劫第六佛名「獅子吼佛」。聖者噶瑪巴在印度與西藏諸境,隨心所欲依序投生,以無數化身廣行教眾大利,此乃於《悲華經》中所授記。
噶瑪巴是首位在西藏示現轉世的活佛化身,當弟子們請求認持未來化身投生之地時,前一世噶瑪巴會賜予下一世投生的轉世預言信函,如此認證的傳統,亦首創了藏傳佛教的轉世上師制度。
第十七世大寶法王噶瑪巴,亦是遵循前一世聖尊的授記,而予認證的轉世聖者,並於過去歷代噶瑪巴的駐錫地,西藏楚布寺舉行陞座大典。在楚布寺經過長達七年的勤學廣修,通達聞思後,1999年為能更廣大利益教法眾生,噶瑪巴以無上聖意發心,從西藏不計艱難強渡至印度,並在不分教派的持教聖士座前,廣為聞思顯密諸經續論而臻究竟。噶瑪巴更每年在佛陀聖地《菩提加耶》金剛座前,舉辦噶舉大祈願法會,利益全世界東西方的具信諸眾,令其在心續中植下解脫的種子,諸佛聖尊的佛行事業廣為遍布十方。
千手千眼觀音灌頂 簡介
觀世音菩薩,又稱觀自在菩薩。菩薩於過去無量劫前,投生為鼓音王及無垢母之子,名為「世自在」,於光明智佛前發廣大悲願,得佛授記:未來示現成佛,名號「普光功德山王如來」。在眾多顯經密續中亦一再開示:觀自在菩薩,大慈大悲,集諸佛慈悲於一體,猶如日輪,普照所有眾生,度一切苦難。
行者如能依此本尊修行,將能生起大悲於自心相續,且能契悟中觀見地,增長大乘之諸功德。至於消除疾病魔障,得增福德資糧,此本尊最為殊勝。有關觀世音菩薩的廣傳,請參閱《妙法蓮華經‧觀世音菩薩普門品》。